News & Events
Gunhead is back making paintball products!
We made the original Spyder tactical accessories as well as the only Piranha tactical stock. We even brought back accessories for the venerable VM-68.


We are now offering Version 3 of our Tippmann™ TPX™ upgrade. Zero First Strike feed issues. Get an adapter now.

_________________________________________
TPX™ First Strike™ adapter
To address all tolerance issues people have with their TPX, we are now releasing Version 3 of the Gunhead TPX First Strike adapter. Feeding issues are a thing of the past. Now, First Strikes feed as flawlessly as regular paintballs. Accept no substitute: V3 Gunhead TPX/TiPX First Strike adapter.
This adapter replaces the internal barrel adapter block inside the TPX™ and will allow the use of your favorite brand of .68 caliber paintball as well as first strike rounds from modified TPX™ magazines.
Once you go first strike™, it is hard to go back to regular paintballs in the backup piece.
To use the new adapter block, the standard 7 round clips must be modified to feed first strike™ rounds into the gun. This modification takes about 10 minutes with an X-acto knife and a file or sandpaper. Installation and clip-mod tutorials are coming soon. We will email you info about modifications in the meantime.
Give me an adapter already, right?

The TPX™ First Strike clip is CNC machined to ensure that First Strike™ rounds feed every time.
Allows for
- 6-7 First Strike rounds
- 7 regular paintballs
You get one completely modified, assembled, and tested Gunhead TPX™ First Strike clip.
Videos & Pictures Coming soon


How To Mod a Clip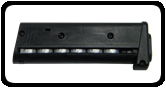 Download the
how-to guide for modifying a
TPX clip to use First Strike rounds
Updates & Tips
UPDATE: Version 3 of our TPX/TiPX First Strike adapters are now available. All feeding issues have been resolved. Currently, the original bolt spring will be needed.
TIPS: Use a label maker to mark the bottom and sides of your modded clips for easy identification at a glance.
Shipping & Leadtime
- Current Leadtime :
Zero Business days.
- Shipping Price:
$6.90 Domestic USA
- Shipping method : UPS, Fedex, or USPS
Please allow up to 5 days transit time. Both methods are trackable.
- Expedited shipping available: 2-day for additional fee.
- International Orders
outside Canada please email sales@gunhead.com